Rethinking Learning: The Hagen New Learning Manifesto
Preamble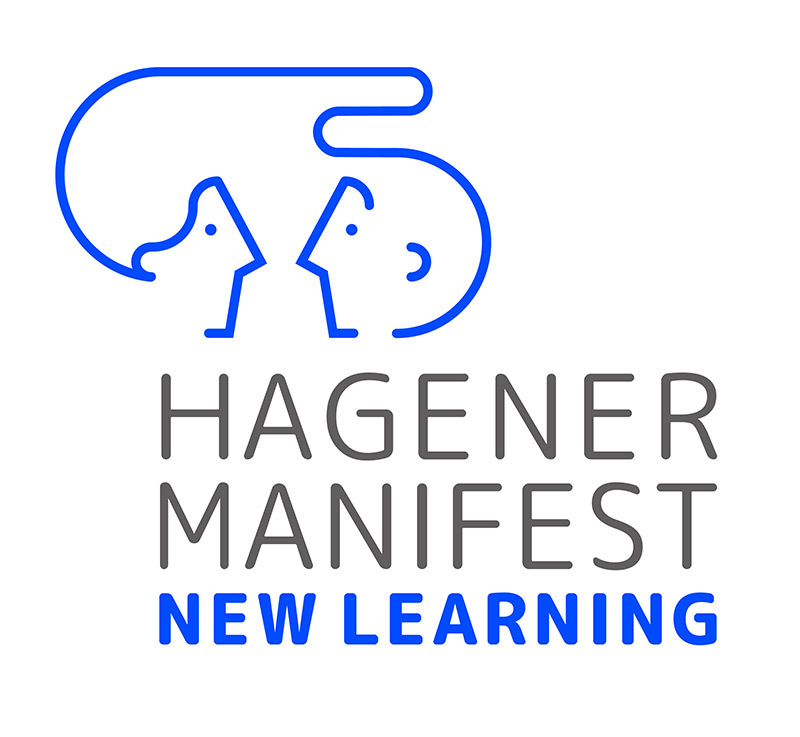 How should we, how can we, how must we learn in the future?
The digital transformation is profoundly changing our society and our work environments. In our educational institutions, in educational policy, and in society, however, we still lack an adequate understanding of how digital media and tools have fundamentally changed – and will continue to change – learning. For years, experts in education have been calling for us to transform how we conceive of and define learning.
We believe it is overdue to adopt a radically new understanding of learning – New Learning.
New Learning is cooperative, situated, competence-oriented, and data-intelligent. Digital and traditional teaching and learning formats work together throughout the entire educational journey. New Learning increases learners' self-determination and focuses on their individual needs. It is inclusive and puts the goal of equal opportunity into practice. It promotes media competence and data literacy, thereby enabling participation and self-determination in a digital society.

The coronavirus crisis has made the acute need very clear: laptops and smartphones, video conferencing, tools for collaborative work, study apps – all the things that once seemed merely convenient suddenly became real necessities in order for teaching and learning to continue at all. Until now, teaching with digital media was driven forward by a few individual pioneers. Now we are all becoming familiar with a new practice and with creative teaching and learning formats. We should see this as a starting point for the future, not as a temporary emergency solution. This does not mean saying goodbye to personal interaction or to proven in-person teaching formats. Rather, we must appropriately anchor the digital transformation in the educational sector as both an opportunity and a social requirement. A return to the old status quo in learning culture would be equivalent to capitulation in the face of the challenges of the digital transformation.

We have to face a number of challenges: Schools, universities, and other educational institutions are not just lacking the necessary technical infrastructure. What they lack most is experience and expertise on how to teach, learn, and work well online and how to productively blend digital and in-person forms of teaching and learning.

Rethinking learning thus encompasses far more than digital technology. Yes, it needs new infrastructure, new learning platforms, and new technologies. Equally necessary, however, are concepts for hybrid teaching and learning, sustainable and cooperative forms of organization in schools and other educational institutions, and innovative policies to support learning.

For teachers, the need for continuing education to accompany this transformation is immense. But this holds true for all other professions as well: We have to familiarize ourselves with new forms of learning. The digital transformation affects the entire working world. Work and learning have become inseparable – the changes in how we work – New Work – require changes in how we learn – New Learning. New corporate cultures and concepts of work require new concepts for learning: agile, cooperative, and networked work requires agile, cooperative, and networked learning. The opportunity and willingness to engage in lifelong learning are important foundations for the success of these transformation processes.

New Learning empowers people to understand and actively participate in shaping the transformation of society and the corporate world. This is not a matter of merely adapting to technological and economic demands. Rather, New Learning aims to foster skills such as the abilities to learn together constructively and cooperatively, to be proactive, and to interact with digital realities in a reflective manner. In the process, New Learning puts learners at the center and empowers them to pursue self-directed lifelong learning within the digital reality of modern life.

Now is the time to develop concepts and guidelines for New Learning. This is the only way to harness the potential of technology to create a future with equal opportunities for all and to enable people to live fulfilled lives in a digital society.

New Learning offers the enormous opportunity for people to shape and participate in transformation processes throughout the whole of society. For this reason, we aim to establish New Learning as a social consensus across the boundaries of individual institutions or political jurisdictions.
Theses
1. New Learning means lifelong education.
New Learning is an established part of our lives. We understand New Learning as a lifelong educational process: from early childhood education and school, to career training and academic education, to continuing education and professional development. This also includes informal learning that takes place outside of the formal educational system.
New Learning requires:
new opportunities and development of new skills to allow self-directed and self-organized learning;

educational policies which situate the topic of learning in all areas of society and which incorporate all active parties at educational institutions as well as representatives from industry and civil society.
2. New Learning promotes equal opportunities.
All learners have the right to a high quality education. It is imperative to remove social, material, and cultural obstacles in order to facilitate new and modern ways of learning for all learners. This includes the use of digital media. New Learning sensitizes teaching staff and educational institutions to social divisions in a digitalized society and enables learners to participate in shaping the digital transformation of society.
New Learning requires:
teaching staff's awareness of the danger that digitalization will (re)create inequalities;

a perspective on digital learning processes which emphasizes diversity, inclusivity and equal opportunities;

resources that empower all people to confidently participate in educational processes and in the digital transformation of society.
3. New Learning puts learners at the center.
Each person learns in their own way. This is why we consistently center our thinking about New Learning on learners. New Learning supports their individual strengths and uniqueness both through personal guidance and through digitally-supported systems that create adaptive learning environments.
New Learning requires:
personal guidance for learners and adaptive learning environments that adjust to learners' individuality and diversity;

adequate and well-reflected coordination of digital and in-person learning;

the ability of teachers and learners to initiate and utilize learning processes beyond formalized structures in order to provide the broadest possible opportunity for individual strengths and interests to flourish.
4. New Learning rethinks the roles of teachers and learners.
In our view, teachers are neither all-knowing, nor should they solely determine the learning process. They understand themselves as learners who simultaneously create a framework for others to learn. They develop adaptive learning paths, create the space for learning, and guide collaborative learning processes. They adapt their teaching to learners' needs and to relevant topics in society.
New Learning requires:
a reflective and participatory process in which teachers and learners negotiate and reflect upon suitable learning paths and goals together;

a culture of learning which breaks down the barriers between participants in the learning process.
5. New Learning means networked learning.
For us, New Learning means designing learning in a networked way. Learning settings must connect to the world of learners' everyday, career, and life experiences. Only then can they promote experience-based and motivated learning and create emotional and sensory access to learning on a number of levels. New Learning simultaneously requires and makes possible new methods of networked learning in order to implement digital media in a didactically appropriate way.
New Learning requires:
digital and networked teaching and learning concepts that are consistently applied across all levels of education and which appropriately combine digital and analog formats;

time for productive exchange to develop fundamentally new, efficient types of networks and cooperation.
6. New Learning makes flexible and self-directed learning possible.
New Learning develops the learning culture further: Learning in projects and via digital formats is gradually replacing purely lecture-based teaching. People learn in an individual, self-directed and team-oriented way, with flexible times and locations. At the same time, they become part of a supportive community of individuals who learn from and with one another, with a sense of social responsibility.
New Learning requires:
a learning culture that enhances new freedoms, collaboration, and self-reliant learning in education;

institutionalized educational structures which enable flexible and self-organized forms of learning.
7. New Learning measures learning success by individual goals.
We are convinced that success in learning is not determined just by degrees completed. It is at least as important to be and to remain capable of learning and to achieve individual goals (for example, to expand one's own skills and qualifications or to pursue personal development). Making mistakes is also a part of the learning process; a culture that deals positively with mistakes is conducive to learning success.
New Learning requires:
recognition of learning success beyond existing degrees and qualifications, both in society and in educational policy;

alternative, modular educational formats and certifications that are firmly established in the educational system;

a learning culture which does not view mistakes as failures but rather as a productive aspect of the learning process.
8. New Learning sees technology as an opportunity – without ignoring risks.
For us, New Learning is inextricably linked with new technologies such as artificial intelligence, learning analytics, big data, and blockchain. These technologies serve as the basis for intelligent and cooperative learning environments. They offer new forms of interaction as well as individual and personalized opportunities for learning – but also require critical reflection.
New Learning requires:
educational technologies that promote learners' individual strengths and learning competencies and thereby increase their self-confidence and autonomy;

systematic design of digital teaching as accessible, sensitive to diversity, and oriented towards learners' individual needs;

continuous assessment and rectification of negative impacts, for example, algorithmic bias.
9. New Learning increases digital (media) competencies and data literacy.
New Learning makes it possible to act confidently, autonomously, and responsibly in a digital society. Qualified, technically skilled, and motivated teachers and learners are our ambassadors for data literacy. This also includes the informed use of digital knowledge resources and data sources.
New Learning requires:
institutionally anchored New Learning skills as well as strategies and educational content for the acquisition of digital and data literacy;

comprehensive opportunities for continuing education for teaching staff in all educational institutions.
10. New Learning guarantees privacy and data protection and prevents digital discrimination.
We aim to shape New Learning in a way that takes diversity into account, protects privacy, develops transparent data policies, and integrates ethical impact assessments. Sensitive management and minimal collection of personal data must be considered a basic requirement, as should protection from discrimination through technology.
New Learning requires:
political regulation of central data protection issues, for example protection of privacy and protection from discrimination via algorithms;

that users be given the maximum degree of influence over the use of their own data on learning and communications platforms;

maximum transparency regarding data processing, to support users' decision processes.
11. New Learning overcomes boundaries between educational institutions.
We want to overcome the artificial boundaries and divisions between individual educational systems and institutions as well as within institutions.
New Learning requires:
new forms of collaboration, discussion, and networks between educational institutions at all levels, that come together in productive cooperation;

the willingness of all parties involved to learn from and with one another across institutional and disciplinary boundaries;

opportunities for learners to move more easily between different educational systems.
12. New Learning requires new, collaborative educational policy.
Science, technology, and society are developing rapidly, and the global competition for talent is increasingly escalating. Meeting this challenge will require the joint efforts of all actors in educational policy at the federal, state, and local levels.
We demand from policymakers:
Federal, state, and local government must work together to create a joint vision for New Learning.

Educational policymakers must further develop our educational system on the basis of international best practices for New Learning.

Institutions and organizations must be financially supported so that they can enact and continuously develop New Learning.

New Learning as a public discourse must actively be politically supported and nurtured.
---
Now it is your turn: Sign the Hagen Manifesto!