Univ.-Prof. Dr. Thomas Ludwig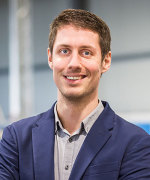 Foto: Privat
Univ.-Prof. Dr. Thomas Ludwig
ABD Forschungsprofessur Bildungstechnologie für die digitale Transformation
E-Mail: thomas.ludwig
Telefon: +49 2331 987-4719
Fakultät für Mathematik und Informatik
Vita
Prof. Dr. Thomas Ludwig ist seit dem 01.04.2023 Professor für Bildungstechnologien für die digitale Transformation an der FernUniversität in Hagen. Diese ist als Forschungsprofessur an den interdisziplinären Forschungsschwerpunkt Arbeit – Bildung – Digitalisierung angegliedert. Sein Forschungsinteresse liegt dabei vor allem im Bereich der menschzentrierten Technikgestaltung, des immersiven Lehrens und Lernens, der Gestaltung von Assistenzsystemen sowie menschzentrierter Künstlicher Intelligenz.
Zuvor war Thomas Ludwig Juniorprofessor für Wirtschaftsinformatik, insb. Cyber-Physische Systeme, an der Universität in Siegen. Dort fokussierte er sich in Forschung und Lehre auf das Design und die Konzeption von menschzentrierten cyber-physischen Systemen, deren technische Entwicklung sowie Aneignung durch deren Nutzer in verschiedenen Anwendungsfeldern. Er studierte Wirtschaftsinformatik (Dipl.-Wirt.Inf.) an der Universität Siegen und University of Newcastle (Australien) und promovierte zu komplexen Informationsinfrastrukturen sowie deren Beforschung durch mobile und soziale Medien (Note: Summa cum laude).
Von 2016 bis 2017 leitete Thomas Ludwig den Arbeitsbereich Internet of Things, wo es vor allem um hardwarenahe Aneignungsprozesse und den Einsatz von Wearables in komplexen Arbeitspraktiken ging. Bis 2017 war Thomas Ludwig Geschäftsstellenleiter des Mittelstand 4.0-Kompetenzzentrums Siegen, welches zum Ziel hat, kleine und mittelständische Unternehmen im Hinblick auf Digitalisierung zu unterstützen. Dabei setzte er eine Reihe von Digitalisierungsprojekten um und brachte beispielsweise die mittlerweile etablierte Workshop-Reihe der Digital Scouts mit auf den Weg.
Thomas Ludwig war seit 2012 wissenschaftlicher Mitarbeiter der Universität Siegen am Institut für Wirtschaftsinformatik, sowie zwischen 2013 und 2016 am Graduiertenkolleg "Locating Media". Dort arbeitete und leitete er eine Vielzahl eigens akquirierter Forschungsprojekte wie beispielsweise EMERGENT, in welchem er unter anderem die Entwicklung einer plattformübergreifenden Schnittstelle zur Erfassung sozialer Medien koordinierte, KOKOS, welches die Entwicklung von technischen Konzepten und IT-Werkzeugen umfasst, um eine Kooperation zwischen offiziellen Behörden und Organisationen und der Bevölkerung bei Schadenslagen anzustreben sowie EKPLO, welches zum Ziel hat, die Potentiale von Advanced Planning and Scheduling (APS) Systemen insbesondere für kleine und mittelständische Unternehmen unter der besonderen Berücksichtigung der MitarbeiterInnen bei der Auftrags- und Ressourcenplanung nutzbar zu machen.
Thomas Ludwig veröffentlichte eine Vielzahl renommierter Publikationen in den Bereichen Human-Computer Interaction und Computer-Supported Cooperative Work. Daneben veranstaltete er eine Reihe wissenschaftlicher, internationaler Workshops. Seine Arbeiten wurden bereits mehrfach mit Preisen ausgezeichnet.
---
Wissenschaftlicher Werdegang
Seit 04/2023
Forschungsprofessur Bildungstechnologien für die digitale Transformation
08/2018-03/2023:
Juniorprofessor für Wirtschaftsinformatik, insb. "Cyber-Physische Systeme"
08/2018-03/2023:
Gesamtkoordination "Mittelstand 4.0-Kompetenzzentrum Siegen"
10/2017-07/2018:
Geschäftsstellenleiter "Mittelstand 4.0-Kompetenzzentrum Siegen"
10/2016-09/2017:
Bereichsleiter "Internet of Things" am Institut der Wirtschaftsinformatik
10/2013 bis 09/2016:
Wissenschaftlicher Mitarbeiter am DFG-Graduiertenkolleg "Locating Media" der Universität Siegen
Promotion mit Abschluss des Dr. rer. Pol. Titel der Dissertation: "Designing ICT Tools for Researching Information Infrastructures" (Note: summa cum laude)
10/2012 bis 10/2013:
Wissenschaftlicher Mitarbeiter CSCW & Social Media
11/2008 bis 09/2012:
Studentische Hilfskraft CSCW & Social Media
07/2011 bis 12/2011:
Auslandssemester: University of Newcastle, Australien
10/2007 bis 09/2012:
Studium der Wirtschaftsinformatik mit Abschluss des Diplom-Wirtschaftsinformatikers. Titel der Diplomarbeit: "Mobiler Reporting-Mechanismus zur Erfassung und Aufbereitung entscheidungsrelevanter Informationen im Krisenmanagement" (Note: 1,0)
---
Veranstaltete Workshops
Better supporting workers in ML workplaces
veranstaltet auf der 22. ACM Conference on Computer-Supported Cooperative Work and Social Computing (CSCW 2019)
Worst Case Practices Teaching us the Bright Side: Making Meaning out of the Dark Side of Assistive Technologies on the Shop Floor
veranstaltet auf der 17. European Conference on Computer-Supported Cooperative Work (ECSCW 2019)
CSCW and the new Wave of Digitalization
veranstaltet auf der 16. European Conference on Computer-Supported Cooperative Work (ECSCW 2018)
The Industrial Internet of Things: New Perspectives on HCI and CSCW within Industry Settings veranstaltet auf der 21. ACM Conference on Computer-Supported Cooperative Work and Social Computing (CSCW 2018)
Mensch Computer Interaktion in sicherheitskritischen Situationen
veranstaltet auf der 17. Konferenz Mensch und Computer (MuC 2017)
Crowds at Risk: Exploitation, Creative Destruction, and the Unintended Effects of Crowdsourcing
veranstaltet auf der 15. European Conference on Computer-Supported Cooperative Work (ECSCW 2017)
Hardware-orientiertes situiertes Wissensmanagement
veranstaltet auf der 9. Konferenz Professionelles Wissensmanagement (WM 2017)
Additive Fertigung/3D Druck – Technologie, Auswirkungen und Chancen
veranstaltet auf der 46. Jahrestagung der Gesellschaft für Informatik (Informatik 2016)
Mensch Computer Interaktion in sicherheitskritischen Situationen
veranstaltet auf der 16. Konferenz Mensch und Computer (MuC 2016)
Crowd Dynamics: Exploring Conflicts and Contradictions in Crowdsourcing
veranstaltet auf der 34. ACM Conference on Human Factors in Computing Systems (CHI 2016)
Toward a Typology of Participation in Crowd Work
veranstaltet auf der 19. ACM Conference on Computer-Supported Cooperative Work and Social Computing (CSCW 2016)
Mensch-Computer-Interaktion und Social Computing in sicherheitskritischen Situationen
veranstaltet auf der 15. Konferenz Mensch und Computer (MuC 2015)
Mensch-Computer-Interaktion und Social Computing in Krisensituationen
veranstaltet auf der 14. Konferenz Mensch und Computer (MuC 2014)
---
CHAIR, EDITOR UND ORGANISATION VON KONFERENZEN
2023 Symposium on Human-Computer Interaction for Work (CHIWORK 2023) – Paper Chair
2021 ACM Conference on Human Factors in Computing Systems (CHI) – Subcommittee Chair
2021 ACM Conference on Computer-Supported Cooperative Work and Social Computing (CSCW) – Online Interactivity Chair
2021 Computer Supported Cooperative Work: The Journal of Collaborative Computing (JCSCW) – Advisory Board
2020 Special Issue Editor for Computer Supported Cooperative Work: The Journal of Collaborative Computing (JCSCW)
2020 ACM Conference on Human Factors in Computing Systems (CHI) – Subcommittee Chair
2019 European Conference on Computer-Supported Cooperative Work (ECSCW) – Program Chair
2019 Wirtschaftsinformatik (WI), General Conference Chair
2019 Wirtschaftsinformatik (WI), Sponsoring Chair
2018 Special Issue Editor for Computer Supported Cooperative Work: The Journal of Collaborative Computing (JCSCW)
2018 European Conference on Computer-Supported Cooperative Work (ECSCW) – Workshop Chair
---
Publikationen
2023
---
Grüger, D., Weiblen, J., Weber, P., & Ludwig, T. (2023). How Gamified Are Sustainable Food Apps? Applying the Gameful Design Heuristics to Evaluate Sustainable Food Apps.
Proceedings of the ACM on Human-Computer Interaction, 7(CHI PLAY), 919–947. https://doi.org/10.1145/3611055
---
Weber, P., Michel, L. K., Koschorreck, L., & Ludwig, T. (2023). Voice Messages Reimagined: Exploring the Design Space of Current Voice Messaging Interfaces.
Mensch Und Computer 2023, 336–340. https://doi.org/10.1145/3603555.3608562
---
2022
2021
2020
2019
2018
2017
2016
2015
2014
2013
2012
---

Ludwig, T. (2012)Mobiler Reporting-Mechanismus zur Erfassung und Aufbereitung entscheidungsrelevanter Informationen im Krisenmanagement.

, Publisher: Universität Siegen
[BibTeX]
---

Müller, C., Ludwig, T., Pipek, V., Rohde, M., Stevens, G. & Wulf, V. Socio-Informatics: Design for Social Practices A condensed anthology of 25 Years of Research

, Pages: 220
[BibTeX]