Jennifer Kendziorra, M.Sc.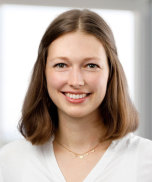 Photo: Hardy Welsch
Email: jennifer.kendziorra
Room: 313 (Building 7)

Office hours: Tuesdays 3 - 5 pm.
To the appointment booking page.
Jennifer Kendziorra has been a research assistant at the Chair of Information Management at the FernUniversität in Hagen since April 1st, 2021.
As part of her Bachelor's degree in International Business and Management at the Bochum University of Applied Sciences, she spent one year at the Universitat Jaume I in Castellón de la Plana, Spain. She completed her Master's degree in Economics and Business Administration at the University of Southern Denmark in connection with a semester abroad at the University of Wisconsin-Whitewater (USA) in 2018.
After completing her master's thesis on consumer preferences in the German coffee market, she initially worked for two years in the field of fast-moving consumer goods (FMCG).
In her work at the chair, she now researches topics related to digitization, especially digital health, and supervises seminar papers and theses.
Professional experience
Seit 04/2021
Research assistant at the Chair of Information Management, FernUniversität in Hagen
09/2020 – 03/2021
Junior Consultant in the Corporate Strategy department, ARDEX GmbH, Witten
06/2019 – 08/2020
Junior Consultant in the merchandise/sales department, LIDL Dienstleistung GmbH & Co. KG, Neckarsulm
10/2018 – 05/2019
Trainee Category Management, Edeka Handelsgesellschaft Nordbayern-Sachsen-Thüringen mbH, Rottendorf
03/2016 – 08/2016
Working student in a digital startup, Binogi GmbH, Essen
09/2015 – 08/2016
Statistics tutor at the faculty of economics Bochum University of Applied Sciences
04/2013 – 07/2014
Student assistant, at the faculty of economics Bochum University of Applied Sciences
Education
09/2016 – 06/2018
Master of Science in Economics and Business Administration (Global Marketing and Consumer Culture), University of Southern Denmark, Odense, Dänemark
09/2017 – 12/2017
Semester abroad in the USA, University of Wisconsin-Whitewater, Wisconsin
09/2012 – 08/2016
Bachelor of Arts in International Business and Management (German-Spanish), Bochum University of Applied Sciences
08/2014 – 08/2015
Year abroad in Spain, Universidad Jaume I, Castellón de la Plana