Campus Map and Directions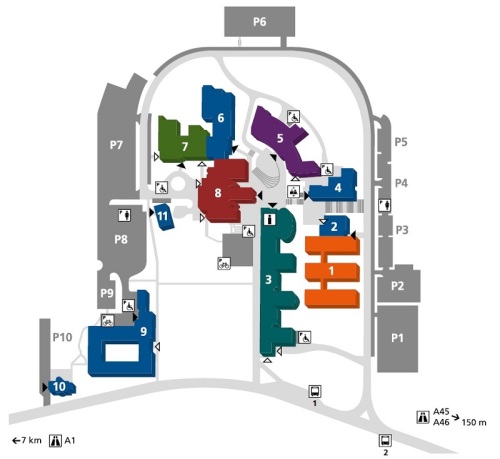 Campus Map
Show legend
Buildings
1
Humanities and Social Sciences
Universitätsstraße 33
2
Seminar Building
Universitätsstraße 33
3
Computer Science Center
Universitätsstraße 11
4
Cafeteria
Universitätsstraße 31
5
Philipp Reis Building
Universitätsstraße 27
6
University Library
Universitätsstraße 23
7
Eugen Schmalenbach Building
Universitätsstraße 41
8
AVZ Building
Universitätsstraße 21
9
U 47, MiniCampus
Universitätsstraße 47
10
Villa
Feithstraße 152
11
Pavilion
Universitätsstraße 43
---
Symbole

Main Entrance
​

Side Entrance
​

​Elevator

Student Services
​

Bicycle Parking
​

Women's Parking
​
​

Accessible Parking
​

Bus Stop
​

Autobahn
---
Directions
By Car
A1 Exit Hagen-Nord: Take the exit in the direction marked "Zentrum (Dortmunder Straße)." Drive straight forward (in the second roundabout take the third exit to Boeler Ring) along the bypass. Continue forward onto Hagener Straße and then Feithstraße. On the left side you will first see the Villa (Building 10) and then the FernUniversität campus. Turn left onto Universitätsstraße.
A45/A46 Junction Hagen: From the junction take the A46 in the direction of Hagen-Zentrum. Take the exit marked "FernUni" and turn right (towards Boele) onto Feithstraße. On the right side, you will see the FernUniversität campus. Turn right onto Universitätsstraße.
With Public Transit
Once your train arrives at Hagen main station, take Bus 515 towards Hohenlimburg Bahnhof. You will arrive directly at the FernUniversität bus stop within 19 minutes.
Besides the direct bus connection, you can use the following alternatives: With Bus 514 towards Bathey or Bus 543 towards Profilstraße Schleife, you can reach the FernUniversität via the Hoheleye stop (Travel time: 15 minutes). Continue further on foot in the same direction across the intersection, then turn right onto Feithstraße. After around 200 meters you will see the FernUniversität campus on your left.
Detailed information about public transit connections can be found on the website of the local transit association Verkehrsverbund Rhein Ruhr
---
Where Can I Stay?
The FernUniversität can be reached on foot from the CampusHotel. Students of the FernUniversität also have the option of inexpensive accommodation at the Bildungsherberge student hostel. A little farther away is the Arcadeon: Home of Research and Continuing Education.
---
Further Information
---
Suggestions, Coments, or Criticism?
Do you have suggestions for how we could improve? Is there something you are dissatisfied with? Or is there something we are doing well? Please let us know! Use our feedback form! (German)