Dr. Gesa Duden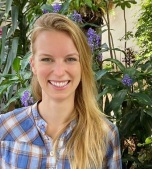 Foto: Gesa Duden
E-Mail: gesa.duden
Sprechzeiten: nach Vereinbarung
Curriculum vitae
Gesa Solveig Duden is a postdoctoral researcher and lecturer at the FernUniversity of Hagen. Her current research is located at the intersections of clinical-cultural psychology, environmental psychology and urban planning focusing on aspects such as urban stressors, integrative spaces and restorative elements for migrants. Gesa Duden also examines experiences of belonging, concepts of intercultural competence, and intercultural communication in therapeutic encounters and diagnostic work.
Prior to her current position she worked as the scientific project manager of the research project Lei#Pnetz, investigating mental healthcare from a community psychiatry perspective at the Leipzig Heart Institute. She completed her PhD "Mental Health Support for Refugees – Integrating Brazilian perspectives" at Osnabrueck University in cooperation with the Universidade Federal de Santa Catarina. She holds an M.Sc. in Intercultural Psychology from Osnabrueck University and a BA in Psychology from University College Dublin. While pursuing her PhD, Gesa Duden worked as a mental health practitioner for refugees and survivors of torture (NTFN & Refugio Bremen). Gesa Duden has held visiting positions at the McGill University in Montréal (Canada), the Universidade Federal de Santa Catarina in Florianópolis (Brazil), and the Université Laval in Québec (Canada).
Gesa Duden is an active member of the International Association for Cross Cultural Psychology (IACCP) and reviewer for international journals such as "Psychotherapy Research", "Transcultural Psychiatry" and "Qualitative Health Research". She also works as a systemic counsellor. Her research has been supported by the Hans-Böckler Foundation, the German Academic Exchange Service (DAAD), and through awards from the International Organisation for Cross-Cultural Psychology (Kwok Leung Research Award), University College Dublin and Osnabrueck University.
Research Interests
Mental health and urban spaces
Space, language and belonging
Intercultural psychotherapy research
Cultural identities and indigenous identities
Intercultural competence and intercultural humility
Links
Researchgate
Google Scholar
Twitter
Selected Papers
Mehr Informationen
Duden, G. S., Gersdorf, S., & Stengler, K. (2022). Global impact of the COVID-19 pandemic on mental health services: A systematic review. Journal of Psychiatric Research. https://doi.org/10.1016/j.jpsychires.2022.08.013
Duden, G. S., Gersdorf, S., Trautmann, K., Steinhart, I., Riedel-Heller, S., & Stengler, K. (2022). LeiP#netz 2.0: mapping COVID-19-related changes in mental health services in the German city of Leipzig. Social Psychiatry and Psychiatric Epidemiology, 1-11. https://doi.org/10.1007/s00127-022-02274-2
Duden, G. S. & Martins-Borges, L. (2021). Psychologists' Perspectives on Providing Psychological Care for Refugees in Brazil. Counselling Psychology Quarterly. doi:10.1080/09515070.2021.1933909

Duden, G. S., Smet, S. de, & Martins-Borges, L. (2021). Psychologsists' Perspectives on the Psychological Suffering of Refugees in Brazil. Culture, Medicine & Psychiatry. doi:10.1007/s11013-021-09717-6

Duden, G.S. & Martins-Borges, L. (2020). Psychotherapy with Refugees - Supportive and Hindering Elements. Psychotherapy Research, 31(3), 386-401. doi:10.1080/10503307.2020.1820596

Knoll M., Götz M., Adriasola E., Al‐Atwi A. A, ... Duden, G. S. & Zacher, H. (2021). International Differences in Employee Silence Motives? Scale Validation, Prevalence, and Relationships with Culture Characteristics across 33 Countries, Journal of Organizational Behavior, 42(5), 619–648. doi:10.1002/job.2512

Weibelzahl, S., Reiter, J., & Duden, G. (2021). Depression and Anxiety in Healthcare Professionals during the COVID-19 Pandemic. Epidemiology and Infection, 149(e46). doi:10.1017/S0950268821000303
LG Community Psychologie - Fatia Pindra | 02.09.2022