apl. Prof. Dr. Bianca Rundshagen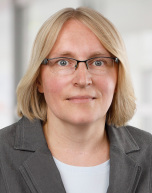 Foto: FernUniversität
E-Mail: bianca.rundshagen
Telefon: +49 2331 987-4453
Fax: +49 2331 987-302
Sprechzeiten: Mon 10.00-12.00 and by appointment room: 3B13
Raum: B 13/3. Stock
CV
| Education | |
| --- | --- |
| 2017 | Associate Professor. |
| 2012 | Habilitation at the Faculty of Business Administration and Economics; Venia Legendi for Economics. |
| 2004 | Doctorate degree at the Faculty of Business Administration and Economics. |
| 1997 | Studies of Business Mathematics at the University of Dortmund; Diploma. |
| 1991 | Abitur Ricarda-Huch-Gymnasium in Hagen. |
Research Focus
International Environmental Economics
Technical change induced by environmental policy
Game Theory
Publications
Journal Articles
Renegotiation-Proof Equilibria in Global Emission Game When Players Are Impatient, in: Environmental and Resource Economics, vol. 12, pp. 275 - 306, 1998 (with M. Finus).

Toward a Positive Theory of Coalition Formation and Endogenous Instrumental Choice in Global Pollution Control, in: Public Choice, vol. 96, pp. 145 - 186, 1998 (with M. Finus).

Land unter! Ein institutionenökonomischer Zwischenruf, List Forum für Wirtschafts- und Finanzpolitik Band 29(2003), Heft 3, S. 284-294 (with A. Endres and C. Ohl).

Participation in International Environmental Agreements: The Role of Timing and Regulation, in: Natural Resource Modeling, vol. 19, pp. 165-200, 2006 (with M. Finus).

A Micro-Foundation of Core-Stability in Positive Externality Coalition Games, in: Journal of Institutional and Theoretical Economics, vol. 162, pp.329-346, 2006 (with M. Finus).

Environmental Liability Law and Induced Technical Change - The Role of Discounting, in Environmental and Resource Economics, vol. 36, pp. 341-366, 2007 (with A. Endres and R. Bertram).

A Note on Coasean Dynamics, in: Environmental Economics and Policy Studies, vol. 9 no. 1, pp. 57-66, 2008 (with A. Endres).

Environmental Liability Law and Induced Technical Change - The Role of Spillovers, in: Journal of Institutional and Theoretical Economics, vol. 164 no. 2, pp. 254-279, 2008 (with A. Endres and R. Bertram).

Membership Rules and Stability of Coalition Structures in Positive Externality Games, in: Social Choice and Welfare, vol. 32, pp. 389-406, 2009 (with M. Finus).

Buchanan-Kooperation und internationale öffentliche Güter, in: Zeitschrift für Umweltpolitik & Umweltrecht, Heft 3/2009, S 247-271, 2009 (with K. W. Zimmermann).

Standard Oriented Environmental Policy - Cost Effectiveness and Incentives for 'Green Technology' ", in: German Economic Review, vol. 11 no. 1, pp. 86-107, 2010 (with A. Endres).

Escalating Penalties: A Supergame Approach, Economics of Governance, vol. 13, pp. 29-49, 2012 (with A. Endres)

Incentives to Diffuse Advanced Abatement Technology under the Formation of International Environmental Agreements, in: Environmental and Resource Economics, vol. 56 no.2, pp. 177-210, 2013 (with A. Endres

) abstract

Simulating a Sequential Coalition Formation Process for the Climate Change Problem: First Come, but Second Served?, in: Annals of Operations Research, vol. 220, pp. 5-23, 2014. (Jointly with J. Eyckmans and M. Finus.)

On uniqueness of coalitional equilibria, in: Contributions to Game Theory and Management, vol. 7, pp. 51-60, 2014. (Jointly with P. von Mouche and M. Finus.)

It´s all in the Mix! - Internalizing Externalities with R&D Subsidies and Environmental Liability, in: Social Choice and Welfare, vol. 44, pp. 151-178, 2015. (Jointly with A. Endres and T. Friehe.)

Environmental Liability Law and R&D Subsidies: Results on the Screening of Firms and the Use of Uniform Policy, in: Environmental Economics and Policy Studies, vol. 17, pp. 521-541, 2015. (Jointly with A. Endres and T. Friehe )

abstract

Game Theory and Environmental and Resource Economics - in Honour of Alfred Endres, in: Environmental and Resource Economics, vol. 62, pp. 657-664, 2015. (Jointly with M. Finus)

Optimal penalties for repeat offenders – The role of offence history, in: The B.E. Journal of Theoretical Economics, vol. 16 no. 2, pp. 545-578, 2016. (Jointly with A. Endres)

Game Theory and Environmental and Resource Economics - in Honour of Alfred Endres, Part Two, in: Environmental and Resource Economics, vol. 65 pp. 1-4, 2016. (Jointly with M. Finus)

Spreading the Green Around the World - How the Permit Allocation Affects Technology Diffusion and Welfare, in: Strategic Behavior and the Environment, vol. 6, pp. 249-287, 2017. (Jointly with A. Endres)
Contributions to collected editions
Strategic Aspects of Implementing the International Agreement on CLIMATE CHANGE, in: M.K. Tolba (ed.), Our Fragile World: Challenges and Opportunities for Sustainable Development, Vol. II, Eolss Publishers Co. Ltd., Oxford, 2001 (with A. Endres and M. Finus).




Endogenous Coalition Formation in global Pollution Control: A Partition Function Approach. In: Carraro, C. (ed.), Endogenous Formation of Economic Coalitions, Edward Elgar, Cheltenham, UK, 2003, S. 199-243 (with M. Finus). The Economics of Environmental Liability Law - A Dynamic View, in: P. Baake, R. Borck (Eds.), Public Economics and Public Choice, Festschrift anlässlich des 65. Geburtstags von Prof. Dr. Charles Beat Blankart, Heidelberg, 2007, S. 201-219.

(Gemeinsam mit A. Endres und R. Bertram).

Property Rights, Externalities and Technical Change, in: B. Gobsch et al. (Eds.), Supply Chain and Corporate Environmental Management, Festschrift für Knut Richter, Hamburg, 2011, S. 69-80

. (Gemeinsam mit A. Endres).
Mikroökonomie | 04.09.2019