apl. Prof. Dr. Bianca Rundshagen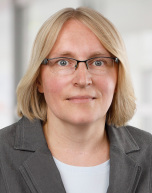 Foto: FernUniversität
E-Mail: bianca.rundshagen
Telefon: +49 2331 987-4453
Raum: 3B13
CV
| Education | |
| --- | --- |
| 2017 | Associate Professor. |
| 2012 | Habilitation at the Faculty of Business Administration and Economics; Venia Legendi for Economics. |
| 2004 | Doctorate degree at the Faculty of Business Administration and Economics. |
| 1997 | Studies of Business Mathematics at the University of Dortmund; Diploma. |
| 1991 | Abitur Ricarda-Huch-Gymnasium in Hagen. |
Research Focus
International Environmental Economics
Technical change induced by environmental policy
Game Theory
Publications
Books
Mikroökonomik - Übungsbuch, Stuttgart (Kohlhammer), 2007. (Gemeinsam mit J. Martiensen.)
Arbeitsbuch zur Umweltökonomie, Stuttgart (Kohlhammer), 2007. (Gemeinsam mit A. Endres, R. Bertram und M. Finus.)
Strategische Verknüpfung von Umwelt- und Handelspolitik - Eine spieltheoretische Analyse internationaler Koalitionsbildung, Wiesbaden (DUV), 2004. (Zugleich Dissertation am Fachbereich Wirtschaftswissenschaft der Fernuniversität in Hagen)
Journal Articles
Diffusion and Adoption of Advanced Abatement Technology Induced by Permit Trading, in: Journal of Public Economic Theory, vol. 22, pp. 1313-1337, 2020. (with A. Endres and T. Friehe)
Spreading the Green Around the World - How the Permit Allocation Affects Technology Diffusion and Welfare, in: Strategic Behavior and the Environment, vol. 6, pp. 249-287, 2017. (with A. Endres)
Game Theory and Environmental and Resource Economics - in Honour of Alfred Endres, Part Two, in: Environmental and Resource Economics, vol. 65 pp. 1-4, 2016. (with M. Finus)
Optimal penalties for repeat offenders – The role of offence history, in: The B.E. Journal of Theoretical Economics, vol. 16 no. 2, pp. 545-578, 2016. (with A. Endres)
Game Theory and Environmental and Resource Economics - in Honour of Alfred Endres, in: Environmental and Resource Economics, vol. 62, pp. 657-664, 2015. (with M. Finus)
Environmental Liability Law and R&D Subsidies: Results on the Screening of Firms and the Use of Uniform Policy, in: Environmental Economics and Policy Studies, vol. 17, pp. 521-541, 2015. (with A. Endres and T. Friehe )
It´s all in the Mix! - Internalizing Externalities with R&D Subsidies and Environmental Liability, in: Social Choice and Welfare, vol. 44, pp. 151-178, 2015. (with A. Endres and T. Friehe)
On the uniqueness of coalitional equilibria, in: Contributions to Game Theory and Management, vol. 7, pp. 51-60, 2014. (with P. von Mouche and M. Finus)
Simulating a Sequential Coalition Formation Process for the Climate Change Problem: First Come, but Second Served?, in: Annals of Operations Research, vol. 220, pp. 5-23, 2014. (with J. Eyckmans and M. Finus)
Incentives to Diffuse Advanced Abatement Technology under the Formation of International Environmental Agreements, in: Environmental and Resource Economics, vol. 56 no.2, pp. 177-210, 2013. (Jointly with A. Endres)
Escalating Penalties: A Supergame Approach, Economics of Governance, vol. 13, pp. 29-49, 2012. (with A. Endres)
Standard Oriented Environmental Policy - Cost Effectiveness and Incentives for 'Green Technology' , in: German Economic Review, vol. 11 no. 1, pp. 86-107, 2010 (with A. Endres)
Buchanan-Kooperation und internationale öffentliche Güter, in: Zeitschrift für Umweltpolitik & Umweltrecht, Heft 3/2009, S 247-271, 2009 (with K. W. Zimmermann).
Membership Rules and Stability of Coalition Structures in Positive Externality Games, in: Social Choice and Welfare, vol. 32, pp. 389-406, 2009 (with M. Finus)
Environmental Liability Law and Induced Technical Change - The Role of Spillovers, in: Journal of Institutional and Theoretical Economics, vol. 164 no. 2, pp. 254-279, 2008 (with A. Endres and R. Bertram)
A Note on Coasean Dynamics, in: Environmental Economics and Policy Studies, vol. 9 no. 1, pp. 57-66, 2008 (with A. Endres)
Environmental Liability Law and Induced Technical Change - The Role of Discounting, in Environmental and Resource Economics, vol. 36, pp. 341-366, 2007 (with A. Endres and R. Bertram)
A Micro-Foundation of Core-Stability in Positive Externality Coalition Games, in: Journal of Institutional and Theoretical Economics, vol. 162, pp.329-346, 2006 (with M. Finus)
Participation in International Environmental Agreements: The Role of Timing and Regulation, in: Natural Resource Modeling, vol. 19, pp. 165-200, 2006 (with M. Finus)
Land unter! Ein institutionenökonomischer Zwischenruf, List Forum für Wirtschafts- und Finanzpolitik Band 29(2003), Heft 3, S. 284-294 (with A. Endres and C. Ohl)
Toward a Positive Theory of Coalition Formation and Endogenous Instrumental Choice in Global Pollution Control, in: Public Choice, vol. 96, pp. 145 - 186, 1998 (with M. Finus)
Renegotiation-Proof Equilibria in Global Emission Game When Players Are Impatient, in: Environmental and Resource Economics, vol. 12, pp. 275 - 306, 1998 (with M. Finus)
Contributions to collected editions
Property Rights, Externalities and Technical Change, in: B. Gobsch et al. (Eds.), Supply Chain and Corporate EnvironmentalManagement, Festschrift für Knut Richter, Hamburg, 2011, S. 69-80

(with A. Endres).

The Economics of Environmental Liability Law - A Dynamic View, in: P. Baake, R. Borck (Eds.), Public Economics and Public Choice, Festschrift anlässlich des 65. Geburtstags von Prof. Dr. Charles Beat Blankart, Heidelberg, 2007, S. 201-219

(with A. Endres and R. Bertram).

Endogenous Coalition Formation in global Pollution Control: A Partition Function Approach. In: Carraro, C. (Ed.), Endogenous Formation of Economic Coalitions, Edward Elgar, Cheltenham, UK, 2003, S. 199-243 (with M. Finus).

Strategic Aspects of Implementing the International Agreement on CLIMATE CHANGE, in: M.K. Tolba (Ed.), Our Fragile World: Challenges and Opportunities for Sustainable Development, Vol. II, Eolss Publishers Co. Ltd., Oxford, 2001 (with A. Endres and M. Finus).