Sommerschule 2013 - Bioethik im Kontext II
Autonomie, Würde und Leben als Grundkoordinaten von Medizin- und Bioethik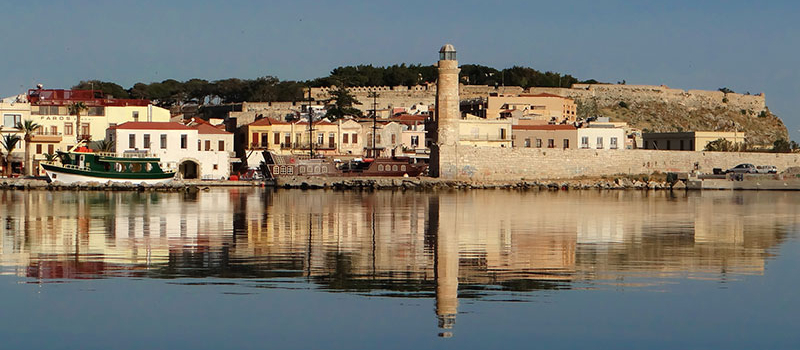 Sommerschule 2013
Termin: 31. August – 13. September 2013
Ort: Rethymnon, Kreta (Griechenland)
Die Sommerschule, die vom 31.08. - 13.09.2013 auf Kreta stattgefunden hat, gehört in die 2012 eröffnete Reihe "Bioethik im Kontext", die die Fernuniversität Hagen in Kooperation mit vier weiteren Universitäten durchführt. Unter dem Titel "Autonomie, Würde und Leben als Grundkoordinaten von Medizin- und Bioethik" ging es im Jahre 2013 vor allem darum, eine Verständigung über den Kerngehalt der damit genannten bioethisch zentralen Begriffe für das individuelle wie soziale menschliche Selbstverständnis zu erzielen. "Autonomie" und "Würde" sind Konzepte, die in einem dominierenden Zweig der Bioethik fest verankert sind und deren weltweite Beachtung beispielsweise die Allgemeine Erklärung der UNESCO zum Thema "Bioethik und Menschenrechte" (2005) einfordert – dennoch gibt es hier zahlreiche Verständigungs- und Anwendungsprobleme, die auch mit unterschiedlichen Wissenschaftskulturen zu tun haben. Der Begriff des "Lebens" spielt in einer weiteren Traditionslinie der Bioethik eine zentrale Rolle, die mit Namen wie A. Schweitzer, Van Rensselaer Potter oder H. Jonas verknüpft ist; hier entsteht unter anderem das Problem einer überzeugenden normativen Deutung des Lebensbegriffs, die vitalistische Kurzschlüsse vermeidet und zugleich mit dem für moderne Gesellschaften konstitutiven Würdediskurs kompatibel bleibt.
In der Sommerschule sollte das entsprechende Problembewusstsein geweckt werden, es sollten aber auch Lösungen erarbeitet werden, die in alle Wissenschaften hinein übersetzbar sind, die an der Klärung medizin- und bioethischer Fragen zu beteiligen sind (Philosophie, Theologie, Jurisprudenz, Medizin, Lebenswissenschaften). Neben dem Ertrag, der in den Begriffsklärungen selbst liegt, wurde den Studierenden hier die Möglichkeit eines exemplarischen Erlernens interdisziplinärer Herangehensweisen bei der Klärung exponierter Konzepte sozialer Orientierung gegeben.
Programm (PDF 676 KB)
The University of Crete

Foto: Privat

The University of Crete is public academic institution, established in 1973. It hosts 17 Departments spread in 5 Faculties (Philosophy, Education, Social Sciences, Natural Sciences & Engineering, and Medical Sciences) as well as a number of affiliated research-oriented institutions, including the Skinakas Observatory, the Natural History Museum, and the University General Hospital. Currently, over 14.000 undergraduates and 2.500 postgraduate students are educated by outward looking academic faculty of around 500 members, supported by over 150 adjunct lecturers, as well as post-doctoral researchers, 110 laboratory support staff and instructors, and about 380 technical and administrative staff.

The international orientation of the University is reflected in its track record of collaborations with many of the leading research and educational institutions in Europe and worldwide as well as active promotion of mobility and exchange programmes. Research and research training at all levels benefits also from the close collaboration between many of the University's research groups with the Institutes of the Foundation for Research and Technology – Hellas (FORTH) and the Institute of Marine Biology & Genetics (IMBG). It is the first Greek University to have signed the EU Charter and the Code for the recruitment of researchers, and forms part of the Euraxess European network for the mobility of researchers.

Located at campuses in the cities of Heraklion and Rethymnon on the island of Crete, a site rich in ancient and modern Mediterranean cultures, the University offers a vibrant social and intellectual environment for research and education.

The Joint Graduate Programme (JGP) in Bioethics

Foto: Privat

The Joint Graduate Programme "Bioethics", is administered jointly by the Department of Philosophy and Social Studies, the Department of Medicine, Department of Biology and Department of Sociology, of the University of Crete. It is staffed by 20 faculty members from the above Departments and 20 affiliate members from other Greek and European Universities and research institutions. Established in 2003-2004, it is the only academic Graduate Programme in Bioethics in Greece. It has acquired international reputation and established collaboration with academics in Europe and USA. It furnishes an optimal setting for the advanced study of current and emerging issues in Bioethics through a combination of teaching and research activities. It has organized numerous conferences, workshops and seven annual Summer Retreats.

The M.A. Programme provides students with the appropriate theoretical frameworks, knowledge and skills, necessary for in-depth investigation, critical analysis and evaluation of ethical problems related to biomedical research, medical practice and health care policy as well as the wider implications, resulting from bio-medical advancements, for the lives of individuals, societies and their relation to the natural environment.

The curriculum is designed for students with educational backgrounds in a variety of academic disciplines (philosophy and the humanities, biology, medical sciences, law and the social sciences). Its structure is interdisciplinary, integrating courses from philosophy, biology, medicine, sociology and law. It is designed to establish both a general level of expertise in all major sub-fields of Bioethics and also deepen students' exposure to a variety of special areas through the selection of electives and the M.A. thesis topic. Among its areas of emphasis are the philosophical/normative foundations of Bioethics, its biological background, its sociological, political and legal dimensions, while a substantial part of student training concerns basic methods of moral reasoning and argumentation for the analysis and evaluation of ethical issues in clinical contexts and health care policy. Specific research areas address bioethical problems in the environmental sciences, research ethics and the regulation of biomedical research, priority setting and resource allocation in public health policy.

The M.A. in Bioethics is a unique "value-added" Degree, as it offers graduates the opportunity to broaden their career prospects in an number of new fields, such as ethics committees or institutional review boards in agencies or organizations where they are already employed, or to provide ethics consultation and find positions at government agencies, regulatory bodies, medical associations and, generally, offer bioethics related consulting work. It also provides an indispensible qualification for those wishing to read for the Ph.D. Degree and take an academic career path.

Affiliated to the Programme is the Centre for Bioethics, which provides the infrastructure for bioethics research and its deployment in the ethical practice of the biosciences and medicine.
Prof. Dr. Jan P. Beckmann (Hagen)
Dr. Katerina Deligiorgi (Sussex)
Dimitar Denkov (Sofia)
Assc. Prof. Dr. Emmanuel Galanakis (Crete)
Prof. Dr. phil. Thomas Sören Hoffmann (Hagen)
Prof. Dr. Hrvoje Juric (Zagreb)
Prof. Dr. Maria Kaiafa (Thessaloniki)
Assc. Prof. Dr. Helen Kalokairinou (Thessaloniki)
Prof. Dr. Valentina Kaneva (Sofia)
Dr. Marcus Knaup (Hagen)
Dr. phil. Kostas Koukouzelis (Crete)
Dr. phil. Lina Papadaki (Crete)
Prof. Dr. iur. Lina Papadopoulou (Thessaloniki)
Prof. Dr. Anastasios Philalitis (Crete)
Assc. Prof. Dr. Stergios Pirintsos (Crete)
Dr. phil. Markus Rothhaar (Hagen/Eichstätt)
Prof. Dr. Pavlos Sourlas (Athens)
Prof. Dr. Kostas Stamatis (Thessaloniki)
Prof. Dr. Stelios Stylianides (Athens)
Prof. Dr. Stavroula Tsinorema (Crete)
Prof. Dr. Valerije Vrcek (Zagreb)
Prof. Dr. Stilian Yotov (Sofia)
Eine Textsammlung zur Vorbereitung sowie weitere Materialien finden Teilnehmer auf der virtuellen Lernplattform Moodle.
---
Rückblick
13.08.2021