Benedikt Fecher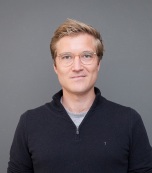 Foto: Ralf Rebmann
Dr. Benedikt Fecher
Scientific Advisor at project "Organizational Adaptivity in the German Higher Education Context (OrA)"
Email: fecher
Französische Straße 9
10243 Berlin

What is my role within CATALPA?
As a science researcher, I advise the OrA project, esp. on research design and data analysis issues.
Why CATALPA?
CATALPA shows that interdisciplinary and innovative research across multiple sites can succeed - in a collaborative and solution-oriented environment with a strong center in Hagen.
Benedikt Fecher has headed the program area "Knowledge & Society" at the Alexander von Humboldt Institute for Internet and Society (HIIG) since 2017. He is an interdisciplinary science researcher and investigates the interrelationships between science and society in the context of digitization. His focus is on data-driven research, research infrastructures, open science & open access, science communication, and the measurement and assessment of societal impact. He has published relevantly on these topics and led national and international externally funded projects.

Sustainable, digital publication markets
Measurement and quality assurance of societal impact of research
Open Access & Open Science