Torsten Zesch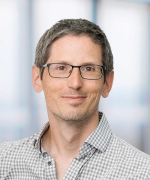 Foto: Henrik Schipper
Prof. Dr.-Ing. Torsten Zesch
Member of the Executive Board, Head of the research professorship "Computational Linguistics"
Email: torsten.zesch
Phone: +49 2331 987-4863
FernUniversität in Hagen
Universitätsstr. 27 - PRG / Buliding 5 / Room A125
58097 Hagen

What is my role in CATALPA?
As a computer scientist, I lead the research professorship Computational Linguistics and investigate with my team how language technology can support the educational process. I am a member of the CATALPA executive board.
Why CATALPA?
The profitable integration of language technology methods in the educational process can only succeed in a joint research effort of different disciplines, which is realized in an ideal way in the research center.
Head of the W3 research professorship "Computational Linguistics" at the FernUniversität in Hagen (since March 2022)
President of the German Society for Computational Linguistics and Language Technology (GSCL) (since 2018)
W2 Professor "Sprachtechnologie", Universität Duisburg-Essen (2020-2022)
W1 Professor "Sprachtechnologie", Universität Duisburg-Essen (2014-2020)
Visiting Researcher, Educational Testing Service, Princeton, USA (2014)
Vertretungsprofessur (W2)"Knowledge Mining & Assessment", Leibniz-Institut für Bildungsforschung und Bildungsinformation (DIPF), Frankfurt (2012)
Visiting Researcher, Bar-Ilan University, Ramat Gan, Israel (2012)
Dissertation (Dr.-Ing.), Computer Science, Technische Universität Darmstadt (2009)

Robust and efficient systems for processing language
Analysis of non-standard language and implicit structures
Application of language processing systems in the field of education

Bexte M, Horbach A, Zesch T (2021) Implicit Phenomena in Short-answer Scoring Data. In: Proceedings of the 1st Workshop on Understanding Implicit and Underspecified Language. pp 11–19
Wahlen A, Kuhn C, Zlatkin-Troitschanskaia O, C Gold, T Zesch (2020) Automated Scoring of Teachers' Pedagogical Content Knowledge-A Comparison between Human and Machine Scoring. In: Frontiers in Education. p 149
Ding Y, Riordan B, Horbach A, Cahill A, Zesch T (2020) Don't take "nswvtnvakgxpm" for an answer - The surprising vulnerability of automatic content scoring systems to adversarial input. In: Proceedings of the 28th International Conference on Computational Linguistics(COLING 2020)
Horbach A, Zesch T (2019) The Influence of Variance in Learner Answers on Automatic Content Scoring. In: Frontiers in Education. p 28
Zesch T, Horbach A (2018) ESCRITO-An NLP-Enhanced Educational Scoring Toolkit. In: Proceedings of the Eleventh International Conference on Language Resources and Evaluation (LREC-2018)
Riordan B, Horbach A, Cahill A, Zesch T, Lee CM (2017) Investigating neural architectures for short answer scoring. In: Proceedings of the Building Educational Applications Workshop at EMNLP. Copenhagen, Denmark, p to appear
Pilán I, Volodina E, Zesch T (2016) Predicting proficiency levels in learner writings by transferring a linguistic complexity model from expert-written coursebooks. In: Proceedings of COLING 2016, the 26th International Conference on Computational Linguistics: Technical Papers. Osaka, Japan, pp 2101–2111
Zesch T, Heilman M, Cahill A (2015) Reducing Annotation Efforts in Supervised Short Answer Scoring. In: Proceedings of the Building Educational Applications Workshop at NAACL
Beinborn L, Zesch T, Gurevych I (2014) Predicting the Difficulty of Language Proficiency Tests. Trans Assoc Comput Linguist 2:517–529
Zesch T, Melamud O (2014) Automatic Generation of Challenging Distractors Using Context-Sensitive Inference Rules. In: Proceedings of the 9th Workshop on Innovative Use of NLP for Building Educational Applications at ACL. Baltimore, USA
Zesch T (2013) Detecting Malapropisms Using Measures of Contextual Fitness. Spec Issue TAL J "Managing Noise Signal Error Handl Nat Lang Process 53:11–31
Levy O, Zesch T, Dagan I, Gurevych I (2013) Recognizing Partial Textual Entailment. In: Proceedings of the 51st Annual Meeting of the Association for Computational Linguistics (ACL), Sofia, Bulgaria, pp 451–455
Zesch T (2012) Measuring Contextual Fitness Using Error Contexts Extracted from the Wikipedia Revision History. In: Proceedings of the 13th Conference of the European Chapter of the Association for Computational Linguistics (EACL 2012). Avignon, France, pp 529–538