Franziska Wehrhahn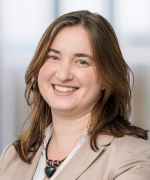 Foto: Henrik Schipper
Franziska Wehrhahn
Research assistant at the junior research group Multimedia
Email: franziska.wehrhahn
Phone: +49 2331 987-2241
Universitätsstr. 27 – PRG / Building 5
Room A 106 (1st floor)
58097 Hagen
What is my role within CATALPA?
As a doctoral researcher of psychology, I investigate interactive learning environments as part of the junior research group Multimedia.
Why CATALPA?
CATALPA offers me the opportunity to conduct explorative, experimental research in the field of interactive multimedia learning. I appreciate the interdisciplinary focus and support for junior researchers which enables an open, developmental research environment. I strive to increase visibility of chances and opportunities regarding the application of interactive, personalized learning materials in universities.
Scientific researcher, Junior group Multimedia, Research Cluster CATALPA, FernUniversität Hagen (since July 2021)
MA Educational Science, FernUniversität Hagen (2021).

Multimedia Learning – how can it be designed in a comprehensive, applicable and interactive manner, to support learners?
Motivation and Attitudes – how do they influence learner's behaviours and how do educational measures and learning materials intervene?
The connection of these aspects allows to understand personalized, accessible, practically usable and useful learning environments at university as a chance and thus makes it applicable.

I am currently working on my first publications.