Josef Ruppenhofer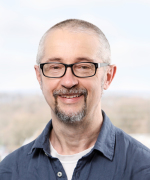 Foto: Hardy Welsch
Josef Ruppenhofer (Ph.D.)
Research assistant at the research professorship "Computational Linguistics" in the project DAKODA
Email: josef.ruppenhofer
Phone: +49 2331 987 - 1472
Universitätsstraße 27 – PRG / Building 5
Raum B116 / 1. OG
58097 Hagen
What is my role within CATALPA?
As a computational linguist in the project DAKODA, I work on the application of NLP and computational linguistic methods and tools to the study of language acquisition by L2 learners.
Why CATALPA?
Within the DAKODA project at CATALPA, I can contribute to a diverse and interdisciplinary research group that combines applied interests in NLP/CL and language education with theoretically grounded linguistics.
since 03.2023 Postdoctoral researcher in the project DAKODA
08.2018 - 02.2023: co-lead of the Archive for Spoken German, Leibniz-Institute for the German Language, Mannheim
05. 2016 - 07. 2018: Group lead for the area of Sentiment Analysis, Leibniz ScienceCampus, Leibniz-IDS/Universität Heidelberg
05.2011 - 04.2016: Postdoctoral researcher, Institute for Information Science and Language Technology, Hildesheim University
07.2008 - 03.2011: Postdoctoral researcher, Dept. of Computational Linguistics, Saarland University, Saarbrücken
01. 2007 - 06.2008: Intelligent Systems Program, University of Pittsburgh
01.2005 – 01.2006: Postdoctoral researcher, FrameNet project, International Computer Science Institute, Berkeley. CA
12.2004 Phd in Linguistics, University of California at Berkeley
12.1999 MA in Linguistics, University of California at Berkeley
05.1997 MA in Linguistics, University of Colorado at Boulder

NLP for educational applications
Corpus linguistics
Frame semantics, construction grammar
Sentiment analysis, offensive language

I am working in the project "DAKODA: Data Competencies in DaF/DaZ: Exploration of Language Technology Approaches for the Analysis of L2 Acquisition Levels in Learner Corpora"