Len-Ole Schäfer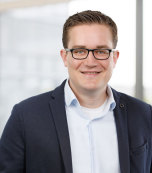 Foto: Hardy Welsch
Dr. Len-Ole schäfer
Lead of the project ORC
Email: len-ole.schaefer
Phone: +49 2331 987-4267
FernUniversität in Hagen
Universitätsstr. 27 - PRG / Building 5 / Room A129
58097 Hagen

What is my role within CATALPA?
As a sociologist and higher education researcher, I am leading the project "Organizational Resilience and Creativity: Exploring the Future of Educational Technology in Higher Education" (ORC), a cooperation project of CATALPA and the Alexander von Humboldt Institute for Internet and Society (HIIG). We investigate the relationship between organisational resilience, creativity and educational technologies. We look at the organizational change of universities.
Why CATALPA?
The research center CATALPA offers excellent conditions to pursue my research. I appreciate the trustful, interdisciplinary collaboration, the freedom and potential to conduct groundbreaking, pioneering and brilliant research. Through my research, I will gain fundamental insights into how higher education organizations, resilience, creativity and educational technologies are interrelated.
Postdoc in the research center CATALPA at the FernUniversität in Hagen (2019 - ).
PhD in Sociology on the impact of the Research Excellence Framework on academic practice in the UK (2018).
Research associate at the senior professorship for social theory and comparative macrosociology at Zeppelin University in Friedrichshafen, Germany (2018)
Visiting Scholar at University College London (UCL), Institute of Education, ESRC/HEFCE Centre for Global Higher Education (2016).
Research Assistant at the Chair of Sociology esp. Sociological Theory at the University of Bamberg (2012 - 2018).
Diploma in Sociology (2012) on the construction of rankings in science

I am passionate about higher education research and particularly interested in the organizational conditions of creativity and the relationship between organisational resilience and educational technologies at higher education institutions. Topics that spark my interest are sociological theory, sociological methods, organizational sociology and educational technologies.

2023

Journals

Conferences

Other Publications

2022

Journals

Conferences

Chapters in Edited Books

Web Documents

2021

Journals

Conferences

Web Documents

2020

Conferences

Member of the advisory board of the #NewLearning Blog of the FernUniversität in Hagen