Claudia de Witt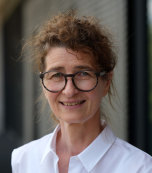 Foto: FernUniversität
Univ.-Prof. Dr. habil. Claudia de Witt
Member of the CATALPA Executive Board, head of the projects AI.EDU, LAMASS@DiLea, IMPACT
Email: claudia.dewitt
Phone: +49 2331 987-4490/91
Universitätsstraße 33 – Building1
58097 Hagen

What is my role within CATALPA?
In the executive board, I represent the perspective of educational science and media didactics both on the lines of development of the research focus and on personalized learning at the individual, social, and institutional levels. I also take care of that CATALPA scholars take advantage of opportunities to present their research at congresses, conferences, and in other formats of their outstanding work. In the projects I lead, we focus on researching how AI can be used reasonable and sensible in higher education for greater educational success.
Why CATALPA?
Researchers from a wide range of disciplines come together in CATALPA and create with their work new knowledge for successful design of digital teaching and learning at university. My focus on artificial intelligence in higher education therefore fits very well into the profile of CATALPA, and with our collaborative projects here we are creating innovative knowledge into methods and applications of artificial intelligence in studying, teaching and further education.
Studies of Educational Science, Sociology and Psychology at the University of Dortmund
Research Assistant (C1) at the Chair of General Education at the Institute of Educational Science and Vocational Education at the University of Dortmund
Private lecturer at the Institute for Educational Science at the University of Duisburg at the chair of Prof. Dr. Michael Kerres
Professor of Educational Theory and Media Education at the FernUniversität in Hagen, Germany (since Octobre 2004)
Reviewer for various journals and international conference contributions
Reviewer of various research proposals
Member of the advisory board in research and development projects
Member of the leading team of the research focus CATALPA Digitalization, Diversity and Lifelong Learning at the FernUniversität in Hagen
Member of the research focus digitale_kultur at the FernUniversität in Hagen

Higher Education and Artificial Intelligence
Innovations of teaching and learning processes with educational technologies
Success conditions for digitalization and personalization in university self-study
(Media-)didactic approaches for formative assessments
Study success and dropout in digital educational formats
Didactical mentoring concepts in distance learning
Design and evaluation of communication scenarios in online learning
Development of pragmatist educational theory in the context of digitalization and data ethics

AI.EDU Research Lab – Künstliche Intelligenz in der Hochschulbildung
LAMASS@DiLea
IMPACT

2023

Chapters in Edited Books

Wrede, S. E., Gloerfeld, C., & de Witt, C. (in press 2023). KI und Didaktik – Zur Qualität von Feedback durch Recommendersysteme. In C. de Witt, C. Gloerfeld, & S. E. Wrede (Eds.), Künstliche Intelligenz in der Bildung. Springer.

2022

Conferences

van Rijn, L., Karolyi, H., & de Witt, C. (2022). Trusted Learning Analytics verstetigen. Mit Change Management zu didaktischen Innovationen. In B. Standl (Ed.), Digitale Lehre nachhaltig gestalten. Waxmann.
Wang, X., Li, H., Zimmermann, A., Pinkwart, Niels., Wrede, S., van Rijn, L., de Witt, C., & Baudach, B. (2022). IFSE - personalized quiz generator and intelligent knowledge recommendation. 2022 IEEE 16th International Conference on Semantic Computing (ICSC), 201–208. https://doi.org/10.1109/ICSC52841.2022.00041

Chapters in Edited Books

Wrede, S. E., Gloerfeld, C., de Witt, C., & Wang, X. (2022). Künstliche Intelligenz und forschendes Lernen - ein ideales Paar im Hochschulstudium!? In T. Schmohl & A. Watanabe (Eds.), Künstliche Intelligenz in der Hochschulbildung. transcript.

Talks and Poster Presentations

van Rijn, L., Karolyi, H., & de Witt, C. (2022, September 13). Trusted Learning Analytics verstetigen. Mit Change Management zu didaktischen Innovationen [Presentation]. 30. Jahrestagung der Gesellschaft für Medien in der Wissenschaft e.V., Karlsruhe.

2021

Conferences

Seidel, N., Karolyi, H., Burchart, M., & de Witt, C. (2021). Approaching Adaptive Support for Self-regulated Learning. In D. Guralnick, M. E. Auer, & A. Poce (Eds.), Innovations in learning and technology for the workplace and higher education (pp. 409–424). Springer International Publishing.

2020

Journals

Gloerfeld, C., Wrede, S., de Witt, C., & Wang, X. (2020). Recommender – potentials and limitations for self-study in higher education from an educational science perspective. International Journal of Learning Analytics and Artificial Intelligence for Education (iJAI), 2(2), 34. https://doi.org/10.3991/ijai.v2i2.14763

Conferences

Wang, X., Gülenman, T., Pinkwart, N., de Witt, C., Gloerfeld, C., & Wrede, S. (2020). Automatic assessment of student homework and personalized recommendation. In M. Chang (Ed.), IEEE 20th international conference on advanced learning technologies (pp. 150–154). IEEE. https://doi.org/10.1109/ICALT49669.2020.00051

Other Publications

With the German Research Center for Artificial Intelligence (DFKI), Educational Technology Lab), Prof. Dr. Niels Pinkwart
With the Leibniz Institute for Human Development and Educational Information (DIPF), Prof. Dr. Hendrik Drachsler; the University of Bremen, Prof. Dr. Andreas Breiter; the Free University of Berlin, Alexander Schulz
With the KI-Campus, Stifterverband

Further research projects of the Department of Educational Theory and Media Education