Julia Zimmermann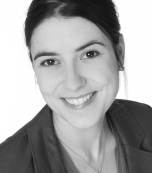 Foto: Fotostudio Knipper
Dr. Julia Zimmermann
associate member of CATALPA, project lead InterMINT, postdoctoral researcher at the department of educational psychology at the FernUniversität in Hagen
Email: julia.zimmermann
Phone: +49 2331 987-4319
Universitätsstraße 33 – Building 1
Raum D 2.017 (2. Etage), 58097 Hagen
What is my role within CATALPA?
I am a psychologist and postdoctoral researcher in the department of educational psychology. My research focuses on the psychological conditions and consequences of international educational mobility. A particular focus is on the study situation and the academic success of international students in Germany.
Why CATALPA?
The research center offers me many opportunities for exchange with other academics working on the topic of diversity at German universities. I particularly appreciate the interdisciplinary and application-oriented perspective of the research center.
Post-doctoral Researcher (Habilitandin), Faculty of Psychology, Department of Educational Psychology (Prof. Dr. Kathrin Jonkmann), FernUniversität in Hagen, Germany (since 2015)
Post-doctoral Researcher, Project "Mobilität und Identität [Mobility and Identity]", Institute of Psychology, Friedrich Schiller University, Germany (2012–2015)
Research Fellow, Interdisciplinary Graduate School "Human Behaviour in Social and Economic Change", Friedrich Schiller University Jena, Germany (2009–2012)
Pre-doctoral Researcher, Department of Personality Psychology and Psychological Assessment (Prof. Dr. Franz J. Neyer), Friedrich Schiller University Jena, Germany (2009–2012)
Pre-doctoral Researcher, Department of Personality Psychology (Prof. Dr. Franz J. Neyer), Potsdam University, Germany (2008–2009)

Psychological conditions and consequences of educational international mobility
Study situation and academic success of international students in Germany
Personal and social development in adolescence and young adulthood

Falk, S., Kercher, J., & Zimmermann, J. (in press).

Internationale Studierende in Deutschland: Ein Überblick zu Studiensituation, spezifischen Problemlagen und Studienerfolg.

Beiträge zur Hochschulforschung

.
Yildirim, H. H., Zimmermann, J., & Jonkmann, K. (in press). Persönlichkeitseigenschaften und die soziale und akademische Integration von internationalen Studierenden. Beiträge zur Hochschulforschung.
Yildirim, H. H., Zimmermann, J., & Jonkmann, K. (2021). The importance of a sense of university belonging for the psychological and academic adaptation of international students in Germany. Zeitschrift für Entwicklungspsychologie und Pädagogische Psychologie, 53(1-2), 15–26. https://doi.org/10.1026/0049-8637/a000234
Yildirim, H. H., Zimmermann, J., & Jonkmann, K. (2021).

Lernerprofile bei Bildungsausländer*innen und längsschnittliche Zusammenhänge mit Studienzufriedenheit und Abbruchintention

[learning profiles of international students and longitudinal associations with study satisfaction and drop-out intention].

Zeitschrift für empirische Hochschulforschung (ZeHf)

, 4, 32–54. https://doi.org/10.3224/zehf.v4i1.04
Zimmermann, J.; Falk, S.; Thies, T.; Yildirim, H. H.; Kercher, J.; & Pineda, J. (2021).

Spezifische Problemlagen und Studienerfolg internationaler Studierender in Deutschland. In Neugebauer, M; Daniel, H. & Wolter, A. (Hrsg.).

Studienerfolg und Studienabbruch

(S. 179–202). Springer VS.
Zimmermann, J., Greischel, H., & Jonkmann, K. (2021). The development of multicultural effectiveness in international student mobility. Higher Education, 82, 1071–1092. https://doi.org/10.1007/s10734-020-00509-2
Zimmermann, J., Greischel, H., Jonkmann, K., & Neyer, F. J. (2021). Growth all along the road? Personality development and international contacts of (in)experienced sojourners. European Journal of Personality, 35, 581–597. https://doi.org/10.1177/0890207020988439
Richter, J., Zimmermann, J., Neyer, F. J., & Kandler C. (2020). Do sojourn effects on personality trait changes last? A five-year longitudinal study. European Journal of Personality, 35, 358–382. https://doi.org/10.1002/per.2291
Zimmermann, J., Schubert, K., Bruder, M., & Hagemeyer, B. (2017). Why going the extra mile? A longitudinal study on sojourn goals and their impact on sojourners' adaptation.International Journal of Psychology, 52(6),425–435. https://doi.org/10.1002/ijop.12240
Zimmermann, J. & Neyer, F. J. (2013). Do we become a different person when hitting the road? Personality development of sojourners. Journal of Personality and Social Psychology, 105(3), 515–530. https://doi.org/10.1037/a0033019