Prof. Dr. Andreas Dellnitz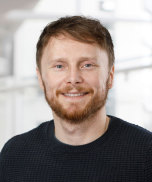 Foto: Hardy Welsch
E-Mail: andreas.dellnitz
Homepage: https://leibniz-fh.de/mitarbeiter/andreas-dellnitz/
Curriculum Vitae
Andreas Dellnitz wurde 1983 in Gelsenkirchen geboren. Nach seinem Abitur und dem Zivildienst nahm er 2005 das wirtschaftswissenschaftliche Studium an der Ruhr-Universität Bochum auf und schloss dieses dann 2010 mit einem Diplom ab.
Zunächst arbeitete Herr Dellnitz nach seinem Studium als wissenschaftliche Hilfskraft an der FernUniversität in Hagen am Forschungsbereich für Operations Research. Im Kern betreute er hier Seminare, Abschlussarbeiten und betrieb Forschung auf dem Gebiet der Effizienzmessung – Stichwort »Data Envelopment Analysis«. Parallel zu dieser Tätigkeit bekleidete Herr Dellnitz verschiedene Positionen im privatwirtschaftlichen Sektor. Darunter war er z.B. als Kapitalanlage-Controller im sog. Versicherungs-Assetmanagement und anschließend als Portfoliomanager in einer Mittelstandsbank aktiv. Zuletzt hatte er eine Position als Senior Quantitative Modeler bei einem großen Energieversorger inne.
Seit Juni 2015 ist Herr Dellnitz nunmehr wissenschaftlicher Mitarbeiter am Lehrstuhl für Betriebswirtschaftslehre – insbesondere Quantitative Methoden und Wirtschaftsmathematik. Hier wirkt er – neben der Betreuung und Beratung von Studierenden – bei der Erstellung und Überarbeitung des lehrstuhleigenen Kursmaterials mit. Im Juli 2015 promovierte er an der FernUniversität in Hagen zum Dr. rer. pol. mit dem Thema »Produktivitäts- und Effizienzverbesserungen in der DEA – Von der Selbst- zur Kreuzbewertung«.
Sein aktuelles Forschungsfeld umfasst noch immer die Effizienzmessung von Wirtschaftseinheiten, wurde jetzt allerdings durch das noch junge Feld der entropieoptimalen sozialen Netzwerkanalyse ergänzt. Eine weitere Leidenschaft ist das Programmieren von Apps; die dabei präferierten Sprachen sind Objective C und C++.
Prof. Andreas Dellnitz erhielt die Venia Legendi für Betriebswirtschaftslehre und ist Professor für Quantitative Methoden, insb. Operations Research und Computational Social Sciences an der Leibniz-Fachhochschule in Hannover.
Forschungsschwerpunkte
Gutachtertätigkeit
European Journal of Operational Research (EJOR)
Mitgliedschaft
Gesellschaft für Operations Research e.V.
Veröffentlichungen
[mehr erfahren]
Gesamtverzeichnis
Beiträge in Sammelbänden
Rödder, W.; Kulmann, F.; Dellnitz, A.: A New Rationality in Network Analysis – Status of Actors in a Conditional-logical Framework, In: Beierle, C.; Brewka, G.; Thimm, M. (editors), Computational Models of Rationality, Tributes Vol.20 (College Publications, 2016) 348-364.
Zeitschriftenaufsätze
W. Rödder; A. Dellnitz; F. Kulmann; S. Litzinger; E. Reucher: Bipartite Structures in Social Networks – traditional versus entropy-driven analyses, Entropy, 21:3 (2019) 277. DOI: 10.3390/e21030277
Brenner, D.; Dellnitz, A.; Kulmann, F.; Rödder, W.: Compressing strongly connected subgroups in social networks -- an entropy-based approach, The Journal of Mathematical Sociology, 41 (2017) 84-103. DOI: 10.1080/0022250X.2017.1284070.
Dellnitz, A.: RTS-Mavericks in Data Envelopment Analysis, In: Operations Research Letters 44 (2016) pp. 622-624.
Konferenzbandbeiträge
Herausgeberwerke
Carsten D. Schulz; Andreas Dellnitz: Attribution Modeling in Online Advertising , In Yang, K.C.C. (Hrsg.), Multi-platform advertising strategies in the global marketplace, Hershey, P.A.: IGI-Global Publisher, S. 226–249, 2017.
Wilhelm Rödder; Friedhelm Kulmann; Andreas Dellnitz: A New Rationality in Network Analysis – Status of Actors in a Conditional-logical Framework , In: Beierle, Christoph et al. (Hrsg.): Computational Models of Rationality, Essays Dedicated to Gabriele Kern-Isberner on the occasion of her 60th birthday, College Publications, S. 348-364, 2016.
Wissenschaftliche Vorträge
Diskussionsbeiträge
Zeitschriften
Dissertationen
03.12.2022