Slavisa Radovic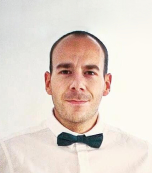 Foto: Privat
Slavisa Radovic, PhD
wissenschaftlicher Mitarbeiter im Projekt APLE II
E-Mail: slavisa.radovic
Telefon: +49 2331 987-4371
Universitätsstr. 27 – PRG
Gebäude 5, Raum A 116
58084 Hagen, Germany
Was ist meine Rolle in CATALPA?
Als Bildungswissenschaftler forsche ich im Bereich adaptiver personalisierter Lernumgebungen im Projekt APLE II. Dabei konzentriere ich mich auf verschiedene Aspekte neu aufkommender Technologien, die in der Bildung zur Unterstützung der Reflexion und Selbstregulierung von Studierenden beim Lernen eingesetzt werden.
Wissenschaftlicher Mitarbeiter des Forschungsschwerpunktes "Center of Advanced Technology for Assisted Learning and Predictive Analytics" (CATALPA) der FernUniversität in Hagen seit März 2022
PhD an der Open University of the Netherlands (Faculty of Educational Sciences). Doctoral thesis: Improving experiential learning environments in higher education: more authentic, reflective and collaborative (mARC) instructional design (2018-2022).
Granted fellowships and research visits to Faculty of Teaching and Education at University of Aix–Marseille (2017), School of Education at University of Ioannina (2015 – 2016); Faculty of Science at Vrije Universiteit (2014 – 2015); England – Research visit to the Centre for Technology Enhanced Learning at Department of Educational Research at Lancaster University (2014).
Wissenschaftlicher Mitarbeiter im Projekt Final exam – a platform for equal involvement of students in the educational process (2014 – 2015); eZbirka platform for increased lecture efficiency (2013 – 2014) of Society of Mathematics, Republuc of Serbia.

Educational Theory
Educational Technology
Pedagogy and Education
Professional Development
Technology Enhanced Learning
Self-Regulated learning
Academic Development
Experiential Learning
Instructional Design
Authentic Learning
Reflection
Collaboration
Online and Distance Education

Radović, S. (2022). Instructional design according to the mARC model: Guidelines on how to stimulate more experiential learning in higher education (PhD thesis). Open Universiteit.
Radović, S., Firssova, O., Hummel, H. G. K., & Vermeulen, M. (2022). The case of socially constructed knowledge through online collaborative reflection. Studies in Continuing Education, DOI: 10.1080/0158037X.2022.2029389
Radović, S., Hummel, H. G. K., & Vermeulen, M. (2021). The Challenge of "More" Experiential Learning in Master of Education: Systematic Literature Review. International Journal of Lifelong Education, 40(5-6), 545-560.
Radović, S., Hummel, H. G. K., & Vermeulen, M. (2021). Design–based research with mARC ID model: Designing experiential learning environments. Learning Environments Research, 1–20, DOI: 10.1007/s10984-021-09394-7.
Radović, S., Hummel, H. G. K., & Vermeulen, M. (2021). The mARC instructional design model for more experiential learning in higher education: theoretical foundations and practical guidelines. Teaching in Higher Education, 1–19,DOI: 10.1080/13562517.2021.1872527.
Radović, S., Firssova, O., Hummel, H. G. K., & Vermeulen, M. (2021). Improving academic performance: strengthening the relation between theory and practice through prompted reflection. Active learning in Higher Education, 1–15, DOI: 10.1177/14697874211014411.
Radović, S., Firssova, O., Hummel, H. G. K., & Vermeulen. M. (2021). Strengthening the ties between theory and practice in higher education: An investigation into different levels of authenticity and processes of re– and de–contextualisation. Studies in Higher Education, 46(12), 2710–2725.
Kaplar, M., Radović, S., Veljković, K., Simić–Muller, K., & Marić, M. (2021). Influence of interactive learning materials on solving tasks that require different types of mathematical reasoning. International Journal of Science and Mathematics Education, 1–23, DOI: 10.1007/s10763–021–10151–8.
Stevanović, A., Bozic, R. & Radović, S. (2021). Higher education students' experiences and opinion about distance learning during the Covid19 pandemic. Journal of Computer Assisted Learning, 37(6), 1682–1693.
Radović, S., Radojičić, M., Veljković, K., & Marić, M. (2020). Examining the effects of Geogebra applets on mathematics learning using interactive mathematics textbook. Interactive Learning Environments, 28(1), 32–49.
Radović, S., Marić, M. & Passey, D. (2019). Technology enhancing mathematics learning behaviours: Shifting learning goals from "producing the right answer" to "understanding how to address current and future mathematical challenges". Education and Information Technologies, 24(1), 103–126.
Svetlik, M., Radojičić, M., Radović, S., & Simić–Muller, K. (2018). Justifying Euler's formula through motion in a plane. The Mathematics Enthusiast, 15(3), 397–406.
Radović, S., & Passey, D. (2016). Digital Resource Developments for Mathematics Education involving Homework across Formal, Non–formal and Informal Settings. Curriculum Journal, 27(4), 538–559.
Radović, S., & Passey, D. (2014). Mathematics, technology and homework for 11–14 year old pupils: comparing developments in formal–informal practice in Serbia and the UK (England). (pp. 1–29). Lancaster University.
Radović, S., Stevanović A., Radojičić M., Marić M. (2013). Interactive presentation of the area of geometry figures applying the program package GeoGebra. Inovacije u nastavi, 26(3), 135–145.
Radović, S. (2013). Teaching Materials "Surface Area of Geometric Figures". European Journal of Contemporary Education, 4(2), 72–80.
Radović, S. (2011). An Innovative Approach in Teaching Mathematics in Elementary and High Schools by Using the Software Package GeoGebra. Mathematica Balkanica, 25(5), 527–543.