Friedrich W. Hesse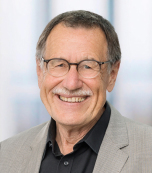 Foto: Henrik Schipper
Prof. Dr. Dr. Friedrich W. Hesse
Wissenschaftlicher Direktor
E-Mail: friedrich.hesse
Telefon: +49 2331 987-2351
Universitätsstraße 27 – PRG / Gebäude 5
Raum A 112 (1. Etage)
58097 Hagen
Rolle in CATALPA ?
Prof. Dr. Dr. Friedrich W. Hesse ist seit Oktober 2020 Wissenschaftlichen Direktor und war bereits ab Mai 2019 Gründungsdirektor des "Center of Advanced Technology for Assisted Learning and Predictive Analytics" ( CATALPA ) der FernUniversität in Hagen. Er übernimmt damit die wissenschaftliche Leitung von der Rektorin Prof. Dr. Ada Pellert und steht dem Leitungsteam vor.
Zuvor unterstützte er den Forschungsschwerpunkt als Berater insbesondere bei der Weiterentwicklung des inhaltlichen Profils.
Warum CATALPA?
Friedrich Hesse: "Für CATALPA ist die Einbettung in der FernUniversität spannend und hier insbesondere dass wir eine hohe Diversität haben, auf die in einem lebenslangen Lernprozess mit digitalen Medien spezifische Antworten gesucht werden. Ich merke, dass hier eine richtige Aufbruchsstimmung ist und, dass das Umfeld mit 78.000 Studierenden, mit den Möglichkeiten, wie an der FernUniversität Wissen vermittelt wird, wie Lehre stattfindet, ein optimaler Ausgangspunkt für solche Fragestellungen "
Mehr zu seiner Motivation im Video "Interview mit Prof. Dr. Dr. Friedrich W. Hesse".
Wissenschaftlicher Direktor des Forschungszentrums "Center of Advanced Technology for Assisted Learning and Predictive Analytics" der Fern-Universität Hagen (seit 2020, dessen Gründungsdirektor bereits in 2019)
Wissenschaftlicher Co-Chair des Global Learning Council - GLC (seit 2018)
Wissenschaftlicher Vizepräsident der Leibniz-Gemeinschaft (2010-2018)
Gründungsdirektor des Leibniz-Instituts für Wissensmedien - IWM (2001-2016) und Leiter der Arbeitsgruppe Wissensaustausch (2001-2019)
Direktor des CNRS-Labor: Laboratoire Européen de Recherche sur les Apprentissages et les Nouvelles Technologies - LERANT in Frankreich (1995-1997)
Inhaber des Lehrstuhls für Angewandte Kognitions- und Medienpsychologie an der Universität Tübingen (1999-2019)
Leiter Abteilung Angewandte Kognitionswissenschaft am Deutschen Institut für Fernstudienforschung - DIFF (1993 bis 2000)
Professor an der Universität Tübingen seit 1990
Akademischer Rat Institut für Psychologie der Universität Göttingen (1983 bis 1990)
Research Fellow LRDC und Carnegie Mellon University in Pittsburgh (1982 bis 1983)
Wissenschaftlicher Assistent RWTH Aachen (1979 bis 1982)
Forschungsassistent an der Universität Düsseldorf und der RWTH Aachen (1976 bis 1979)
Studium der Psychologie an den Universitäten Marburg und Düsseldorf (Diplom 1976), Promotion an der RWTH Aachen (1979) Habilitation (1989) an der Universität Göttingen

Die Forschungsschwerpunkte liegen im Bereich des Lernens mit digitalen Medien. Mein Hauptinteresse gilt den Möglichkeiten der Künstlichen Intelligenz, verschiedene Formen eines personalisierten Lernens zu unterstützen. In weiteren Einzelfragestellungen geht es darum, ob digitale Werkzeuge in der Lage sind, Verzerrungen der Informationsverarbeitung (z. B. Majoritäteneinfluss, Bestätigungsfehler) entgegenzuwirken. Ebenso widme ich mich der Frage, wie verschiedene Group Awareness Ansätze zu einer verbesserten computerunterstützten Zusammenarbeit beitragen können und der inhaltliche Austausch durch den Einsatz von Multi-Touch-Screens unterstützt werden kann. Damit wird auch die physische Gestaltung von realen und virtuellen Räumen bei der Konzeptionierung von digitalen Lehr-/Lernsettings mitberücksichtigt.

Mehrere von der DFG, BMBF, Land Baden-Württemberg, EU und Leibniz-Gemeinschaft geförderte Einzelprojekt

Verbundprojekte in der Rolle des Initiators und Sprechers:

erstes Virtuelles Graduierten Kollegs der DFG in Deutschland (1999-2008)
DFG-Schwerpunktprogramm "Netbased Knowledge Communication" (2000-2006)
DFG-Forschergruppe "Orchestrierung computerunterstützter Lehr-Lern-Prozesse" (2006-2017),
WissenschaftsCampus "Bildung in Informationsumwelten" (2009-2018) – Initialer Campus dieser Serie der Leibniz-Gemeinschaft

2021

Zeitschriftenartikel

Laufer, M., Leiser, A., Deacon, B., Perrin de Brichambaut, P., Fecher, B., Kobsda, C., & Hesse, F. W. (2021). Digital Higher Education: a Divider or Bridge Builder? Leadership Perspectives on Edtech in a COVID-19 Reality. International Journal of Educational Technology in Higher Education, 18(1), 1–17. https://doi.org/10.1186/s41239-021-00287-6

Bücher

Hesse, F. W., Kobsda, C., & Leiser, A. (2021). Digital Transformation of HigherEducation - Global Learning Report 2021. Global Learning Council (GLC). https://doi.org/10.21241/ssoar.73580

Beratungskreis "Hochschule.digital Niedersachsen" der Volkswagenstiftung und des Niedersächsischen Ministerium für Wissenschaft und Kultur
Wissenschaftlicher Beirat des Humboldt Instituts für Internet und Gesellschaft – HIIG in Berlin
Wissenschaftlicher Beirat des Deutschen Instituts für Erwachsenenbildung – Leibniz-Zentrum für Lebenslanges Lernen in Bonn
Wissenschaftlicher Beirat im Bereich Berufsbildungsforschung beim Staatsekretariat für Bildung, Forschung und Innovation SBFI der Schweiz
Wissenschaftlicher Beirat des "Leading House Dual-T: Technologies for Vocational Training" an der EPFL Lausanne
Wissenschaftlicher Beirat des BMBF Projekts "BRIDGE -Berufspraktische Bildungsprozesse im Recht- und Lehramtsreferendariat sowie der Medizin unter Nutzung digitaler Medien" an der Universität Mainz
Wissenschaftlicher Beirat des ELAN e.V. Niedersachsen
"Committee for Research Strategy and Coordination – Strategiekommission Forschung der Eberhard Karls Universität Tübingen"
Wissenschaftlicher Beirat von "Advancing intuitive human-machine interaction with human-like social capabilities for education in schools ANIMATAS" – a Marie Sklodowska-Curie Innovative Training Network – Sorbonne, Paris.
Global Learning Councel (GLC) Scientific Co-Chair.
Exzellenz-Graduiertenschule "Learning, Educational Achievement, and Life Course Development: An Integrated Research and Training Program (LEAD) Universität Tübingen (Honorary Member)
Fellow der "International Society of the Learning Sciences – ISLS"